In 2008, with funding through the British Library's Endangered Archives Programme, I commenced the archiving of the sound recordings held at the Radio Télévision Guinée (RTG) offices in Boulbinet, Conakry. In 2009 I received further funding to complete this large project, which I estimated to be in excess of 5,000 songs. However, due to the volatile security situation, I was forced to end the project early. I had hoped to return to Guinea in 2011, but the Arts Ministry was one of the last to be named by Guinea's new civilian government, so I missed the deadline that year for funding as there was no Minister to approve my project. I applied for 2012 funding instead, though doubted my chances of success. I had already received two Major Research Project Awards, which was unusual, and I doubted if three would ever be possible. I was very surprised when informed that the Endangered Archive Progamme had agreed to fund my proposal, and I arrived in Conakry in August 2012 with 6 months to complete the project.
3 years absence from Conakry felt more like 3 weeks, though the city had changed with slums making way for a bevy of shiny new hotel projects. The atmosphere had changed too, with much less tension than in 2009. The soldiers now walked the streets without their machine guns, which President Condé decreed must remain in their barracks.
Some things, though, never change, such as the delays in trying to commence work. I went to the Ministry of Communication and the RTG every day for a month. I presented my credentials and documents from former ministers. "Ah, but things have changed", they said. It became clear that he senior management of the RTG were not interested in completing the project, and I was pleased when, later in the year, the Minister of Communication, his Chef de Cabinet, and his Secretary General were all sacked. When I finally began the project I immersed myself in the work. My previous experience in Guinea (see the links above) had shown me that anything can happen at any time, and so I worked like a man possessed in order to get the work done. I worked 8 hour days with no breaks for over 100 consecutive days. I broke several ribs in a fall, though worked, every day. I worked with sickness... Nothing would deter me: not the authorities' indifference towards the sound archive, nor the recalcitrance of their attitudes, nor the tragedies of everyday life in Guinea. Nothing. I was on a mission, and I was determined to complete it.
The RTG offices in Boulbinet, Conakry

At work in the archive

So, from early September the work began in earnest. One day I archived 28 audio reels! Other days I could archive just 4 or 5. The work varied according to the size of the reels and in what state of disrepair they were in. In my earlier projects I had prioritised the recordings by Guinea's orchestras, as I deemed these reels to be the most important. What remained to be archived, therefore, was mostly traditional music, which consisted of recordings by ensembles and soloists from all of Guinea's language groups. Though I knew well the music of the Malinké griots and of Fulbé ensembles, there was a lot of music I was hearing that was unfamiliar, for example the music of the Kissi and Baga ethnic groups. It was exciting to discover a wealth of material that I had little knowledge of. Though the RTG reels that were being archived represented possible Syliphone disc recordings, there were many artists who were scarcely known to me and who I had never seen cassette material of in my many journies to Guinea. I archived reels of recordings by great artists such as Farba Tela, Ilou Dyohèrè, Binta Laaly Sow, Binta Laaly Saran, Koubia Jazz, Sory Lariya Bah, and Jeanne Macauley. What was really surprising to me was how much Fulbé music I was archiving.
I have written on the (multi)cultural policies of Sékou Touré (see "Music for a coup - 'Armée Guinéenne'. An overview of Guinea's recent political turmoil", available here) under his authenticité programme. In brief, orchestras and ensembles were created in each of Guinea's 35 regions, so as to give broad and equal representation to all of the nation's language groups and cultures. Yet, with respect to Fulbé music, only 3% of Syliphone songs were sung in Fulfuldé. How can this be when the Fulbé account for 40% of the population? I contend that the answer resides in the decades long power struggle between the Fulbé and the Malinké. Prior to independence Guinea's Fulbé population represented a voting bloc who opposed Sékou Touré and the PDG, and since the early 1960s Touré had singled them out for plotting against him. During his rule over a million citizens fled, many of them of Fulbé ethnicity. Fulbé culture was marginalised and under-represented, yet here in the archive were hundreds of reels of the best Fulbé musicians, most of which had never been heard outside of Guinea. On occasion, I would come across reels which had "not for broadcasting" written on the cover. An example of this is below (see "a ne pas diffuser", near the bottom).
During the Touré years the government employed many censors who closely monitored the music broadcast by the RTG. Particular attention seems to have been paid to Fulbé musicians. A curious incident occurred which added further intrigue. As October turned into November I began to see the end of the project in sight - still weeks away, but in sight. I had kept my head down and was busy with the work, but now I started to enquire about a 2nd archive I was shown just once in 2009. The RTG had told me that this archive no longer existed. But later, the story changed. The archive did exist but it didn't contain any music, just speeches by Sékou Touré and recordings of PDG conferences. Then that story changed too, and there was music in there but very little, and only music that was copied from other reels. By November, the attitude of the RTG towards my project had slowly become more positive. What commenced with plain rudeness and disinterest had segued into a spirit of cooperation. A real concern for the project was being shown and I was granted complete access to the RTG. So, I asked to see this mysterious 2nd archive, which is known as the "annexe". Upon entering the archive I was aghast to see perhaps 10,000 reels in perfect neat rows. These I was told were the Sékou Touré and RTG conference speeches. In the corner of the annexe were two rows of reels, poorly archived. Many had no cover and nothing written on them at all. Others were clearly marked and were of orchestras and ensembles. Many were entangled in spaghetti-esque entwinements. I realised that I would be in Guinea a lot longer than planned...
I decided to complete the archiving of all the reels in the first archive and then commence to archive the annexe. The annexe reels, I soon discovered, were predominantly of Fulbé music. I thought it very strange that so much Fulbé music existed in this "hidden" archive. The annexe lacked the aircon of the main archive, and it also got regularly flooded, ankle deep. The air was thick with mould and moisture which was steadily destroying everything in the room. The annexe desperately needs climate control to save all those thousands of hours of speeches and the other materials in the room (24mm films (by Syli-Film?) in rusty canisters, for example). I transported all the music reels I could find from the annexe to the main archive, so at least those are preserved. Many were in a bad shape, and the overall state of the archiving of the reels in the annexe was very poor indeed. Though badly archived there were only a handful of reels whose state was so far gone that they were unable to be saved.
A typical reel from the annexe, with many metres of tape at the beginning of the reel left un-wound and loose.
Such poor storage causes creases and wrinkles in the tape which affects its sound. Other reels in the main archive were never stored this way.

No climate control = mould. Many reels in the annexe were in a very poor condition.



No climate control also = termites.



Spot the difference. The reels containing speeches are on the right. The reels of music are on the left...

In the annexe on a ladder. There was so much loose magnetic tape everywhere that reels were often entwined together.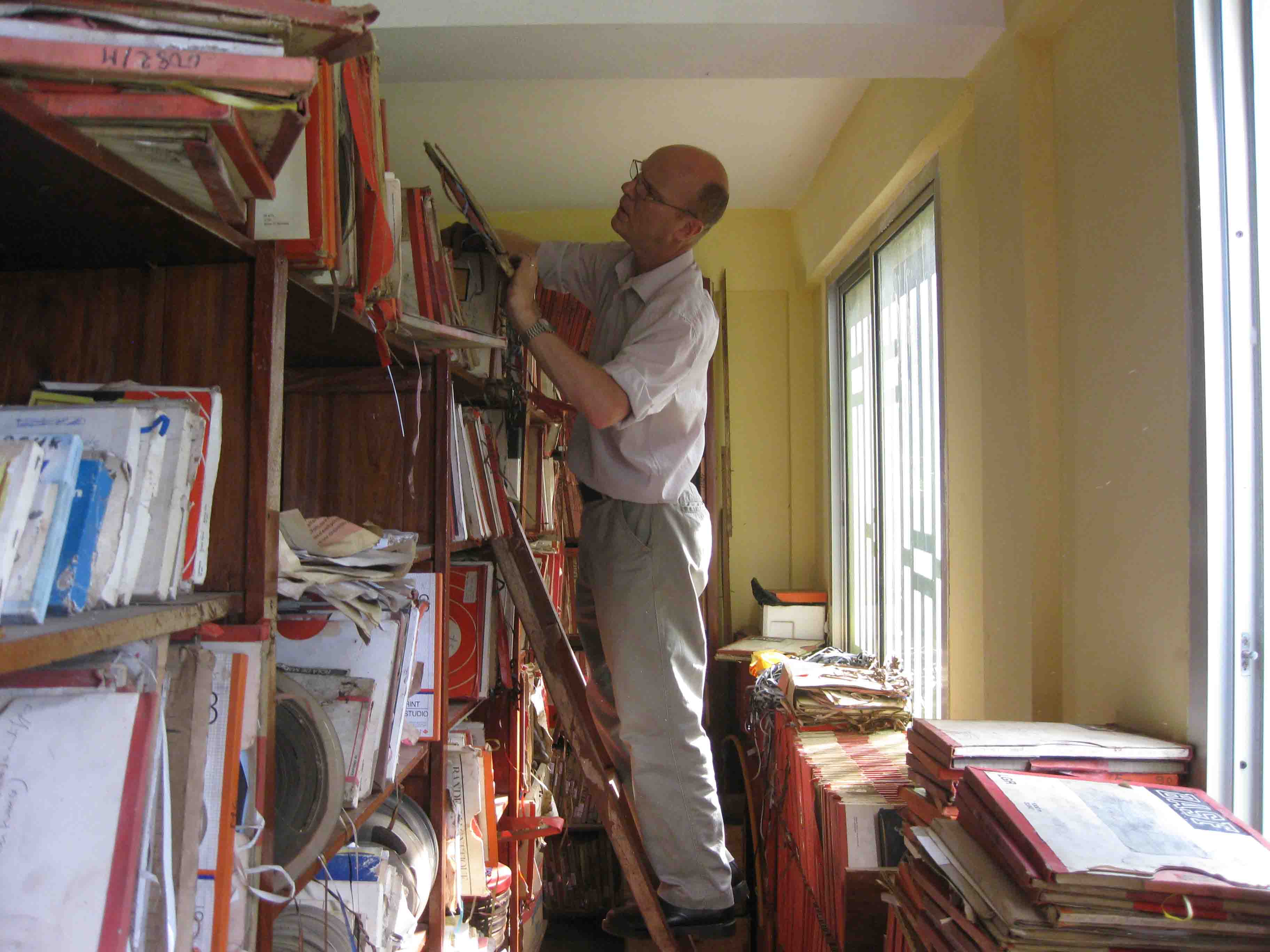 It took many weeks to complete the archiving of the annexe. Xmas and New Year came and went. At last there were only 50 or so reels left to archive. But then staff would locate more and the project would be extended by another week or two. It was impossible to know when it would all be done. But done it was!, and to celebrate I bought a bottle of the most expensive Pastis I could find and sipped it with my translator. We had archived 5,210 songs from 827 reels, with the total amount of songs archived over the three projects coming to 9,410 songs from over 1,200 reels. This equated to over 53,000 minutes of music. I presented the archived songs to the RTG as 1,500 Compact Discs which were also contained in a 1tb external hard drive.
The new archive of reels from all three EAP projects - near completion in a climate controlled space.

I suggested that all the audio reels and CDs from the three projects be located in one space, and this was organised by the RTG. A photo of it appears above. With about a week to go before I departed, publicity for the project was arranged by both the Ministry of Communication and the Ministry of Culture. This was pleasing, for it was very important that the Guinean public know of the existence of this incredible archive of material. For decades, most of the archived materials had never been broadcast. The music documents an era, and is thus a political issue, with Guinean governments wary of its influence and power, and thus burying it for a generation. Over the many months of work I had grown personally attached to the archive, too, and I often thought of all the children who had been told by their family that one day their mother/father had been recorded by the RTG. It was their music. It is a travesty that a whole generation of Guineans had never heard these recordings. The project had become a personal mission to give life to these recordings, and I often thought of the songs as being asleep, and how they were now waking up. For Guinea to progress, it must "regard sur le passé", to borrow from a famous song. It must "look on its past" and embrace the music and politics of not only the pre-colonial era, which were glorified by the nation's griots, but also of the post-colonial. Guinea's contemporary political history must also be a focus of discourse, rather than its most important representations shunned and locked behind closed doors. It was a miracle that the audio archive had survived, and it was with this in mind that I undertook and completed the project.
At the completion of the archiving project the Ministry of Culture arranged for a celebration to be held at La Paillote. Les Amazones de Guinee performed, as well as Keletigui et ses Tambourinis. The event was broadcast live on many radio stations, the Prime Minister telephoned his congratulations, and it was featured on thenational television news that evening. It was a wonderful event and a fitting end to the project.

All of the project material is available to the public online via the British Library Sounds website.