Tempo International discography
Vinyl recordings of Guinean music released by the Tempo International label (1961-1965), based in Hollywood, USA.

Compiled by Graeme Counsel ©

Copyright

In 1961 Leo Sarkisian travelled through West Africa recording

local musicians

for the

T

empo International label. In Guinea he gained the trust of Pres

ident

S
é
kou Tour
é, who allowed him to to travel throughout the country and record

local

artists

. A sound engineer, Sarkisian

was permitted to

train

Guinea

n

audio

technicians

and thus he helped d

evelop

studio

recording

techniques in

the

nation's

new national radio station. He

was appointed as a government

employee and was close friends with Fodéba Keita, the founder of Les Ballets Africains.

The Tempo International

vinyl

discs are the first recorded examples of Guinean music

after its independence in 1958

. The series of discs commenced in 1961 with three "Edition spéciale"

LP

releases, followed in 1962 and 1963 with

seven LP

s

and five 45 rpm discs. The recordings of the orchestras are especially interesting

as

many of the groups still featured acoustic string sections

as they

were

yet to amplify their instrumentation.

By the mid 1960s,

all

of Guinea's

orchestras were amplified

(at considerable expense)

,

thus

the

Tempo International

recordings captured a rare

and brief snapshot

of the early style of modern Guinean music. Sarkisian recorded the local orchestras in the towns of Beyla,

Guéckédou and Kissidougou, groups who were better known as Bembeya Jazz, Kébendo Jazz and Niandan Jazz.
Other recordings by Sarkisian, which were unreleased by Tempo

International

, can be heard in the the Syliphone archive.

In 1965 four of the Tempo International LPs were re-issued with new covers for the New York World's Fair, where they were available for sale from Guinea's stall. This helps to date Guinea's Syliphone

releases, as it

is

likely that the Tempo International

recordings

were the only

high-quality studio

recordings available

t

o represent the nation

to the public

on the world stage

.
33.3 rpm discs
Tempo 7008
Sons nouveau d'une nation nouvelle. 1961.
Face A: 1 Région de Dinguiraye: Chœur féminin de Dinguiraye - Youssouré. 2 Région de Faranah: Yéli Bala - Musique traditionnelle pour rite fétichiste. 3 Région Forestière: Groupe te tam-tams Guerzé conduit par Foroma Yomonou / Wolo Lama / Danse populaire Guerzé / Rythme Guerzé / Groupe de Fassou Moriba - Danse traditionnelle Guerzé / Groupe de Yagbaoro Haba - Koula'oulé / Gata Kourouma avec l'ensemble musical populaire / "Chant de diable" - Ensemble Traoré Lah / Ensemble Féminn Guerzé conduit par Fanta Kaba - Zino langla. 4 Région de Kankan: Diéliekaba Somano et sa formation - Chant folklorique Malinké.
Face B: 1 Région de Boké: Groupe Touré Mamouna conduit par Sakho Sékou - Kakilambé. 2 Région de Fouta Djallon: Sory Bambara - Lélé. 3 Région de Kankan: Le Groupe et Danse Folklorique Malinké sous la direction de Balla Kourouma (chant par Kouyaté Famadou) - Danse de feu. 4 Région de Kankan: Kadé Diawara avec Kouyaté Sétouman - Ah Malissadio. 5 Région de Kissidougou: Le Groupe Bemba Traoré - Kébendo.
Tempo 7009
Sons nouveau d'une nation nouvelle. Edition Speciale. Serie 1. 2 October 1961. 3ème Anniversaire de la Proclamation de l'Independence Nationale. L'Ensemble Instrumental Africain de la Radiodiffusion Nationale. 1961.
Face A: Toutou diarra (ensemble) / Solo de kora (par M'Bady Kouyaté) / Alpha yaya (ensemble) / Diarra denke (Mama Niang - konni, M'Bady Kouyaté - kora) / Kemé bourema (ensemble).
Face B: Tara (ensemble) / Sakhan nan konyi be (balafon solos par Sory Kouyaté, Diarraba Kandé et Djigui Diabaté) / Maniamba (ensemble) / Maramba (Mama Niang - konni) / Douga (flute et bolon).
Tempo 7010
Sons nouveau d'une nation nouvelle. Edition spéciale. Serie II. 2 Octobre 1961. 3ème anniversaire de la proclamation de l'independance nationale. L'Ensemble Instrumental Africain de la Radiodiffusion Nationale. 1961.
Face A: Koulandian (ensemble) / Diaka (M'Bady Kouyaté - kora) / Mo benni ibara le (ensemble) / Laguya (Mama Niang - konni).
Face B: Diandjo (balafons - Sory Kouyaté, Diarraba Kanté et Djigui Diabaté) / Gnalen gbassa (ensemble) / Malan sombouya (M'Bady Kouyaté - kora) / Alou kele bila (ensemble) / Badara (Mama Niang - konni).
Tempo 7011
Sons nouveaux d'une nation nouvelle. République de Guinée. 2 Octobre 1962. 4ème anniversaire de l'independance nationale. 1962.
Face A: Kedo (solo de Kora) / Sily (solo de balafon) / Toutou (solo de konni)
Face B: Deoula (solo de kora) / Sakodou (solo de balafon) / Fama denké (solo de konni)
Tempo 7012
Sons nouveaux d'une nation nouvelle. République de Guinée. 2 Octobre 1962. 4ème anniversaire de l'independance nationale. 1962.
Re-issue -
African music. Republic of Guinea. Special edition. New York World's Fair 1964-1965.
Face A: Boloba (solo de kora) / Kemé Bourama (solo de balafon) / Allah laké (solo de kora)
Face B: Tabara (solo de kora) / Leyoro (solo de konni) / Tinko Mory (solo de balafon)
Tempo 7013
Sons nouveaux d'une nation nouvelle. République de Guinée. 2 Octobre 1962. 4ème anniversaire de l'independance nationale. Orchestre Danse de Guéckédou. 1962.
Re-issue -
African music. Republic of Guinea. Special edition. New York World's Fair 1964-1965.
Face A: Sewara / Bar Kebendo / Liberation / Bessawa
Face B: Mousso / M'di wa-ifé / Mama / Kele magni
Tempo 7014
Sons nouveaux d'une nation nouvelle. République de Guinée. 2 Octobre 1962. 4ème anniversaire de l'independance nationale. Orchestre Danse de Guéckédou. 1962.
Re-issue -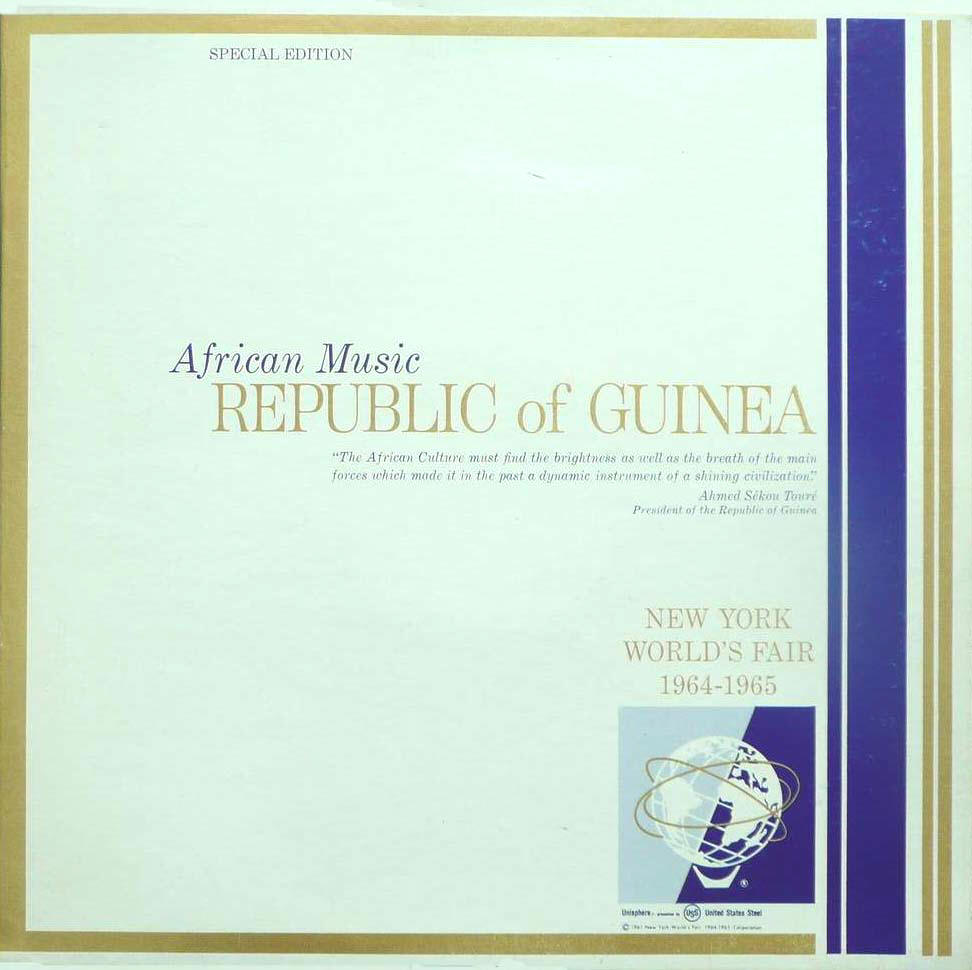 African music. Republic of Guinea. Special edition. New York World's Fair 1964-1965.
Face A: Plan triennal / Kebendo / Soumbouya / Sabouya
Face B: Yagou sagou / Hore le le / N'na gnalen
Tempo 7015
Sons nouveaux d'une nation nouvelle. République de Guinée. 2 Octobre 1962. 4ème anniversaire de l'independance nationale. Orchestre de Beyla. 1962.
Face A: Présentation / Yarabi / Lele / Din ye kassila
Face B: Wonkaha douba / Seneiro / Wassoulou / Maniamba
Tempo 7016
Sons nouveaux d'une nation nouvelle. République de Guinée. 2 Octobre 1963. 5ème nniversaire de l'independance nationale. Kissidougou (Ensemble de Bemba Traore et l'Orchestre Regional de Kissidougou). 1963.
Côté A: Bebe Traore et son group: Mandan yamo / Sebo foula l'ONU / Parti ylo / Lele / Tanban kalio
Côté B: L'Orchestre Regional de Kissidougou: He yamaye / Unite Africaine / Yanfa / Sekou a l'ONU
Tempo 7017
Sons nouveaux d'une nation nouvelle. République de Guinée. 2 Octobre 1963. 5ème anniversaire de l'independance nationale. L'Ensemble Folklorique de Kankan. 1963.
Re-issue -
African music. Republic of Guinea. Special edition. New York World's Fair 1964-1965.
Côté A: Famaden / Kemé Bourama / Kaira / Diandion / Alla no le
Côté B: Dieli dounou / Fakoli / Madi goundo / Sobala

45 rpm discs
Tempo 4501
Sons nouveaux d'une nation nouvelle. République de Guinée. 2 Octobre 1962. 4ème anniversaire de l'independence nationale. 1962.
Côté A: Kedo (solo de kora)
Côté B: Sily (solo de balafon)
Tempo 4502
Sons nouveaux d'une nation nouvelle. République de Guinée. 2 Octobre 1962. 4ème anniversaire de l'independence nationale. 1962.
Côté A: Deoula (solo de kora)
Côté B: Sakodou (solo de balafon)
Tempo 4503
Sons nouveaux d'une nation nouvelle. République de Guinée. 2 Octobre 1962. 4ème anniversaire de l'independence nationale. 1962.
Côté A: Boloba (Solo de kora)
Côté B: Kemé Bourama (Solo de balafon)
Tempo 4504
Sons nouveaux d'une nation nouvelle. République de Guinée. 2 Octobre 1962. 4ème anniversaire de l'independence nationale. 1962.
Côté A: Tabara (solo de kora)
Côté B: Leyoro (solo de konni)
Tempo 4505
Sons nouveaux d'une nation nouvelle. République de Guinée. 2 Octobre 1962. 4ème anniversaire de l'independence nationale. 1962.
Côté A: Allah laké / Touto
Côté B: Tinko Mory / Fama denké

~~~~~~~~~~~~~~

The following people have contributed to this discography:

Teco Kelfkens
Chris Meserve
Geoff Bale