I started collecting Syliphone records in 1994 when I first travelled to Guinea. For many years, finding information on Syliphone or on other West African recording labels of the era was near impossible, which spurred me to create discographies of their releases.

Syliphone was Guinea's recording label and was officially launched in August 1967 (though the first series of seven LPs were on sale in Paris in April of that year). Guinea's government had previously released vinyl recordings through the USA-based "Tempo International" label (recorded by Leo Sarkisian who worked for the company prior to his Voice of America roles), through Eastern bloc labels ("Electrola Auslands Sonderdienst") and through its own production labels (e.g. "Editions InfoGuinee", "Editions de la République de Guinée" and "Ministère de l'Information et du Tourisme", or sometimes with no official label named at all). The launch of Syliphone heralded the label as the focal point for Guinea's music industry, a role which it held until its demise in 1984 following the death of Pres. Sékou Touré.

Based on what I knew, I published a discography of Syliphone recordings in 1999 which has since grown as obscure releases come to light. With the addition of a four track EP, released under the label "Silly Phone" (perhaps it was the first "Syliphone" release? You can listen to it here and read more here), which I purchased from a former Republic of Jugoslavia state, I thought that the Syliphone label was complete and had been fully catalogued.

Recently, however, I was very surprised and pleased to unearth a previously uncatalogued release, a 45 rpm disc by Franklin Boukaka backed by the orchestra Keletigui et ses Tambourinis performing "Unité Africaine" and "Kitoko mingi".

Franklin Boukaka was a Congolese singer, guitarist and member of many formative orchestras in the early 1960s, notably Cercul Jazz. In 1969 he performed at the Pan-African Cultural Festival in Algiers where, perhaps, he began his association with Guinean musicians as the Republic of Guinea had sent an entourage of over 100 artists to the festival. In 1970 he toured Guinea and performed at the Quinzaine Artistique et Culturelle Nationale festival, where he was backed up by Keletigui et ses Tambourinis. He recorded three 45 rpm singles for Syliphone, supported by Keletigui's orchestra. Syliphone released these recordings with the unique catalogue numbers of SYL 251, SYL 252 and SYL 253. This series of "SYL 200s" signified a new venture for Syliphone: a series of recordings which featured Guinean musicians in collaboration with African artists. It was short-lived, however, as the series petered out with the release of SYL 253.

Syliphone SYL 253: Franklin Boukaka avec Keletigui et ses Tambourinis performing "Unité Africaine" and "Kitoko mingi". Boukaka's recording of "Unité Africain" is unique on vinyl. The song exhorts the independence movements that were underway in Africa and features a roll call of African nations who were pitted against colonial rule. (An alternate version was digitised during the Radio Télévision Guinée sound archive project which is a live version, very likely recorded at the Quinzaine Artistique festival in 1970). The B side, "Kitoko mingi", was initially featured on SYL 251 as an apparent live recording, but is presented on SYL 253 as a studio instrumental. It's a bit of an odd release as it is appears to be a backing track waiting, apparently, for the vocals of Boukaka to be added.

Nevertheless, SYL 253 is perhaps the final chapter in the Syliphone catalogue. I hope not! Do send me any vinyl releases that are not featured in its discography. My email address is in the "About" link at the top of this page.

Click on the image below to listen to

"Unité Africain" and "Kitoko mingi".



Syliphone SYL 253
Franklin Boukaka avec Keletigui et ses Tambourinis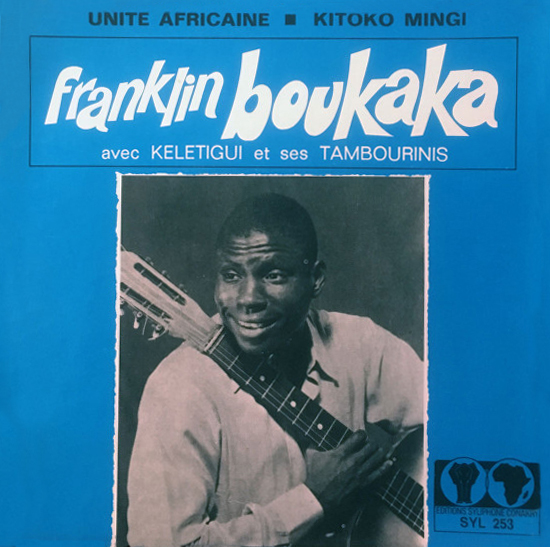 "Unit

é

Africain" and "Kitoko mingi"